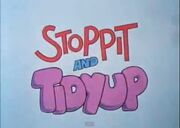 "It was another day in the Land of Do As You're Told..."
Thus began one of the most surreal childrens programmes of the 1980s - Stoppit And Tidyup! Based on all those little phrases so beloved of parents, the programme turns them around, giving each its own personality. The show follows the exploits of the frequently immature and annoying Stoppit and the hard done-by and loveable Tidyup in their native land.
Produced by CMTB animation and animated by Terry Brain, Steve Box and Charles Mills, it was always going to be something out of the ordinary - this is the team that brought us Trapdoor, while Brain and Box were later employed by Aardman animations. And, of course, there was Terry Wogan, narrating the series.
Stoppit And Tidyup is based in the Land of Do As You're Told, a charming place with lots of weird and wonderful characters. The characters are smaller than humans, with the biggest living in an old Tree Stump and the smallest fitting into a tin can. The land itself is extremely bizarre, but not completely detached from our own world - one episode features a busy road, one features children playing, and all include a visit to the Dump.
There are a few slight differences, however. For a start, the Gherkins. The Gherkin is the food of choice in Do As You're Told, which is handy because they grow absolutely everywhere. There appear to be many different types of Gherkin, small and large, plain and striped, and all brightly coloured with green bits growing on top. And then, of course, there are the characters. None of the characters actually speak decipherable words as such. Instead they gabble, grunt, squeak and hum whilst series narrator Terry Wogan unravels the tale for viewers.
Stoppit and Tidyup was a BBC series originally broadcast in 1987, and also aired on PBS and Nickelodeon in the United States. The series was part funded by The Tidy Britain Group, a Wigan-based organisation whose aim was to reduce the amount of unsolicited rubbish in and around the UK.
There were a total of 13 episodes made, each approx 5 minutes in length.
Community content is available under
CC-BY-SA
unless otherwise noted.